NEWS AND EVENTS
Events, partnerships, software releases, discover our latest news!
What's up Intuitive Robots?
April 2022 – Spot detects gas leaks at TotalEnergies platform
New inspection mission for Spot at the Lacq robotics platform operated by TotalEnergies. Double mission, in teleoperation and autonomous mode:
Reading gauges on equipment to ensure proper operation and detect any anomalies
Detection, localization and visualization of gas leaks
Payload configuration:
Spot CAM+ (360° PTZ camera) to read gauges
Fluke SV600 Acoustic Imager to detect gas leaks
Rajant ES1 Kit (mesh network) for wireless network communication
With Spot, TotalEnergies was able to detect gas leaks in less than 3 minutes within the facility.
March 2022: Spot in autonomous mission!
Did you know that Spot can perform complete autonomous tasks and data capture while carrying payloads?
Here Spot is equipped with a 360° PTZ camera combined with a thermal camera. At the top of right of the video you can follow the mission on the controller.
𝗛𝗼𝘄 𝗱𝗼𝗲𝘀 𝗶𝘁 𝘄𝗼𝗿𝗸?
The Spot 𝐴𝑢𝑡𝑜𝑤𝑎𝑙𝑘 feature enables you to record and replay autonomous behaviors with Spot. It consists of two parts:
Recording missions: Drive Spot through a route and choose Actions for the robot to complete at points along the way.
Replaying missions: Spot will execute these movements and Actions as recorded, while adapting to minor changes in the environment.
December 2021 – Discover 𝗔𝗥𝗔𝗠𝗜𝗦: 𝗔utonomous 𝗥𝗔diation 𝗠apping 𝗜ntegrated 𝗦ystem
The Mobile and Autonomous Mapping Solution for nuclear facilities
ARAMIS is a mobile robotic system enabling to safely 𝗱𝗲𝘁𝗲𝗰𝘁, 𝗹𝗼𝗰𝗮𝗹𝗶𝘇𝗲, 𝗰𝗵𝗮𝗿𝗮𝗰𝘁𝗲𝗿𝗶𝘇𝗲 and 𝗺𝗲𝗮𝘀𝘂𝗿𝗲 𝗴𝗮𝗺𝗺𝗮 𝗿𝗮𝗱𝗶𝗼𝗮𝗰𝘁𝗶𝘃𝗶𝘁𝘆 in 𝗻𝘂𝗰𝗹𝗲𝗮𝗿 𝗳𝗮𝗰𝗶𝗹𝗶𝘁𝗶𝗲𝘀, using real-time spectroscopy and 360° imaging transmission provided by the H400 spectrometer camera manufactured by H3D, Inc.
This project with Spot aims to 𝗸𝗲𝗲𝗽 𝗼𝗽𝗲𝗿𝗮𝘁𝗼𝗿𝘀 𝗮𝘄𝗮𝘆 𝗳𝗿𝗼𝗺 𝗵𝗮𝘇𝗮𝗿𝗱𝗼𝘂𝘀 𝗮𝗿𝗲𝗮𝘀 𝗮𝗻𝗱 𝘀𝗶𝘁𝘂𝗮𝘁𝗶𝗼𝗻𝘀 during inspection tasks.
September 2021 – New payload integration with Spot: UV-C light based disinfection module
Mobile, flexible and autonomous solution for area disinfection.
This week at Intuitive Robots office, our Spot robot increases its capabilities with the integration of a UV-C light based disinfection module designed by our partner DT-Solution.
The aim is to provide an autonomous and nimble robotic solution to safely disinfect areas in multiple industries (healthcare, transport, retail, industrial sites…)
We will soon start the first experiments with different partners, stay tuned!
June 2021 – Vivatech Highlights with Spot Robot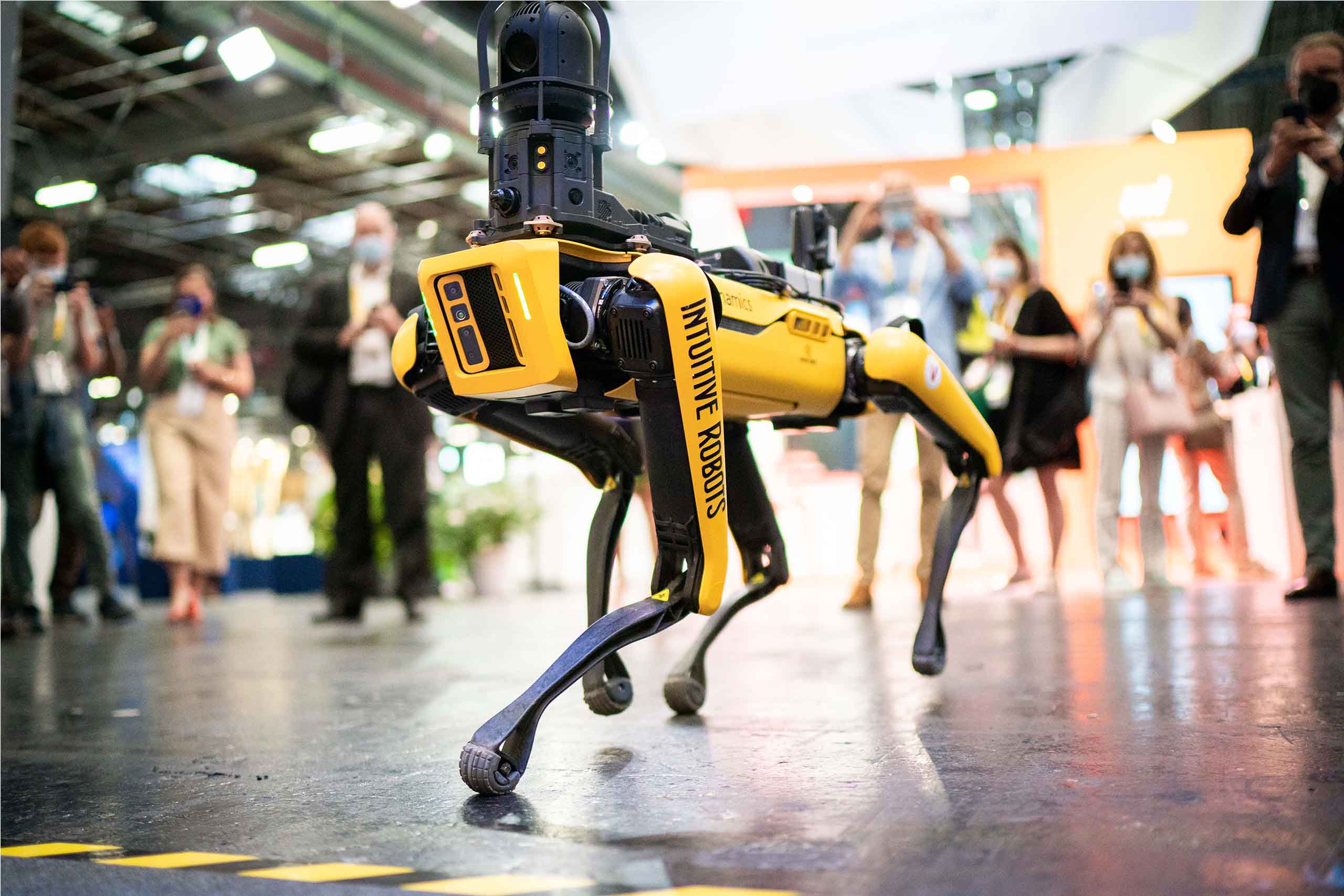 June, the 16th 2021 – Vivatech in Paris
As expected, Vivatech was unmissable! With this year of COVID, Vivatech was a limited & hybrid edition with a blend of online and in-person for an augmented event experience. A total of 26,000 people attended the conference in person and 114,000 online, bringing the total to 140,000,  That was up from 124,000 in-person attendees in 2019, the last time VivaTech was held. In total, this year's event reached 119 million people in 149 countries, with 1.7 billion views.
For our 5th participation, we've been invited by Vivatech to showcase for the first time in France one of the most advanced robot: Spot, the famous nimble four-legged robot designed by our partner, Boston Dynamics. For this occasion, we built a wooden platform composed of a ramp and a stairs, to show all the agility of Spot.
While waiting for the 2022 edition (normal edition), find our highlights of this 2021 edition!
Read more…