NEWS AND EVENTS
Events, partnerships, software releases, discover our latest news!
What's up Intuitive Robots?
December 2021 – Discover 𝗔𝗥𝗔𝗠𝗜𝗦: 𝗔utonomous 𝗥𝗔diation 𝗠apping 𝗜ntegrated 𝗦ystem
The Mobile and Autonomous Mapping Solution for nuclear facilities
ARAMIS is a mobile robotic system enabling to safely 𝗱𝗲𝘁𝗲𝗰𝘁, 𝗹𝗼𝗰𝗮𝗹𝗶𝘇𝗲, 𝗰𝗵𝗮𝗿𝗮𝗰𝘁𝗲𝗿𝗶𝘇𝗲 and 𝗺𝗲𝗮𝘀𝘂𝗿𝗲 𝗴𝗮𝗺𝗺𝗮 𝗿𝗮𝗱𝗶𝗼𝗮𝗰𝘁𝗶𝘃𝗶𝘁𝘆 in 𝗻𝘂𝗰𝗹𝗲𝗮𝗿 𝗳𝗮𝗰𝗶𝗹𝗶𝘁𝗶𝗲𝘀, using real-time spectroscopy and 360° imaging transmission provided by the H400 spectrometer camera manufactured by H3D, Inc.
This project with Spot aims to 𝗸𝗲𝗲𝗽 𝗼𝗽𝗲𝗿𝗮𝘁𝗼𝗿𝘀 𝗮𝘄𝗮𝘆 𝗳𝗿𝗼𝗺 𝗵𝗮𝘇𝗮𝗿𝗱𝗼𝘂𝘀 𝗮𝗿𝗲𝗮𝘀 𝗮𝗻𝗱 𝘀𝗶𝘁𝘂𝗮𝘁𝗶𝗼𝗻𝘀 during inspection tasks.
Spot Explorer or Enterprise, which robot to choose?
Spot, the famous four-legged robot designed for automated inspection and data collection, has been commercially available since 2019 (end of 2020 in Europe), with today more than 500 robots deployed in multiple industries around the world.
In early 2021, Boston Dynamics announced an advanced version of their classic model (Spot Explorer), with the release of Spot Enterprise version.
If most of the technical features are similar between the two versions, some significant differences must be taken into account, especially according to the expected usage and the deployment context.
Discover the differences in this article!
Read more…
September 2021 – New payload integration with Spot: UV-C light based disinfection module
Mobile, flexible and autonomous solution for area disinfection.
This week at Intuitive Robots office, our Spot robot increases its capabilities with the integration of a UV-C light based disinfection module designed by our partner DT-Solution.
The aim is to provide an autonomous and nimble robotic solution to safely disinfect areas in multiple industries (healthcare, transport, retail, industrial sites…)
We will soon start the first experiments with different partners, stay tuned!
June 2021 – Vivatech Highlights with Spot Robot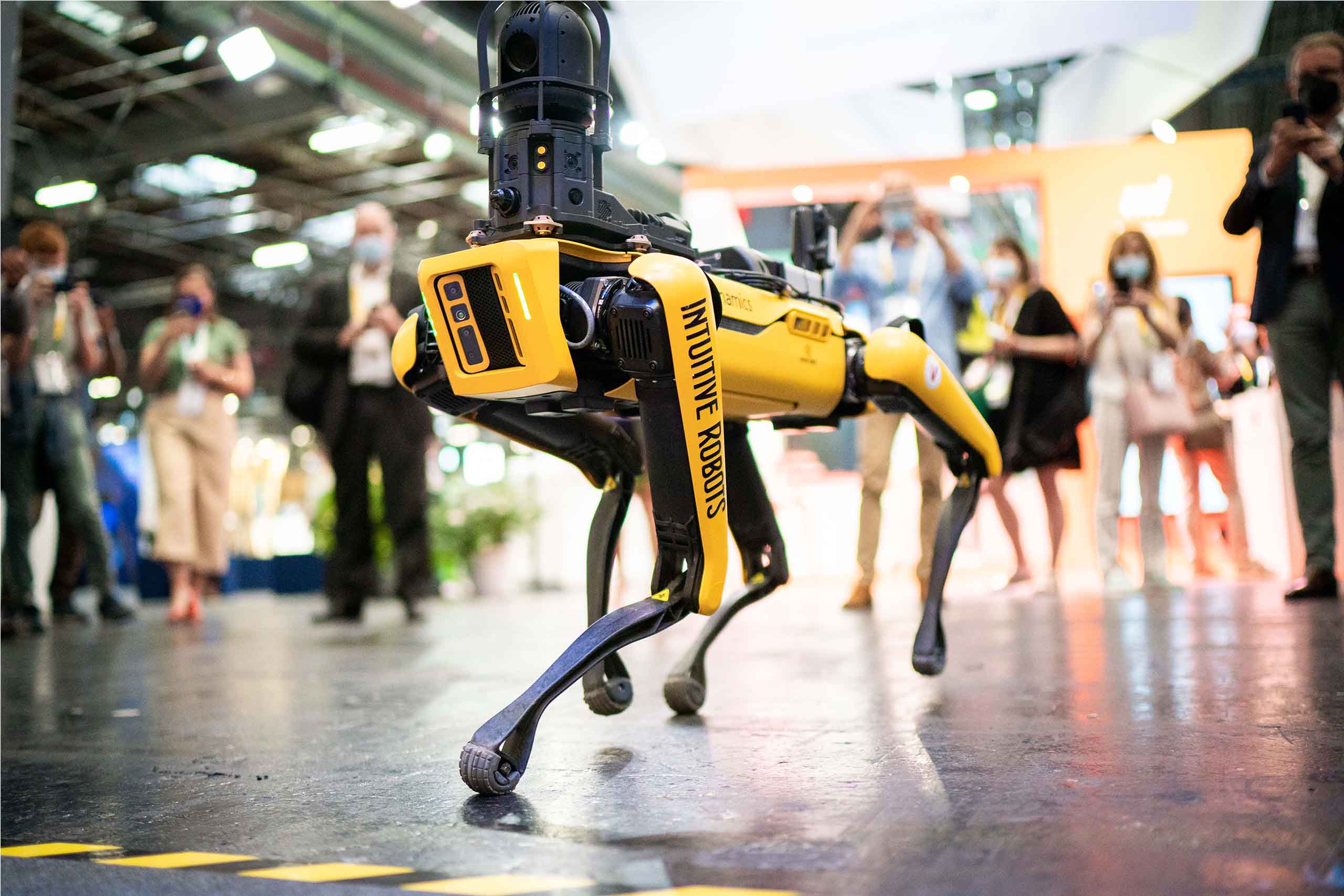 June, the 16th 2021 – Vivatech in Paris
As expected, Vivatech was unmissable! With this year of COVID, Vivatech was a limited & hybrid edition with a blend of online and in-person for an augmented event experience. A total of 26,000 people attended the conference in person and 114,000 online, bringing the total to 140,000,  That was up from 124,000 in-person attendees in 2019, the last time VivaTech was held. In total, this year's event reached 119 million people in 149 countries, with 1.7 billion views.
For our 5th participation, we've been invited by Vivatech to showcase for the first time in France one of the most advanced robot: Spot, the famous nimble four-legged robot designed by our partner, Boston Dynamics. For this occasion, we built a wooden platform composed of a ramp and a stairs, to show all the agility of Spot.
While waiting for the 2022 edition (normal edition), find our highlights of this 2021 edition!
Read more…
May 2021 – Leica Geosystems & Intuitive Robots collaborate to integrate the RTC360 Scanner with Spot
May 5, 2021 , Nantes, France

Leica Geosystems & Intuitive Robots collaborate to integrate the RTC360 Scanner with Spot robot for fast and easy-to-use reality capture. Professionals in many different industries such as construction, manufacturing, facility management, public safety, defense, media and entertainment or any other industry with autonomous scanning needs can benefit from programmed scanning tasks, especially for locations that must be repeatedly scanned for up-to-date digital twins.
For repetitive work such as daily stockpile analysis, quality assurance, and as-built analysis, the operator can focus on what needs to be captured, not how to capture it.