NEWS AND EVENTS
Events, partnerships, software releases, discover our latest news!
What's up Intuitive Robots?
September 2021 – New payload integration with Spot: UV-C light based disinfection module
Mobile, flexible and autonomous solution for space disinfection.
This week at Intuitive Robots office, our Spot robot increases its capabilities with the integration of a UV-C light based disinfection module designed by our partner DT-Solution.
The aim is to provide an autonomous and nimble robotic solution to safely disinfect areas in multiple industries (healthcare, transport, retail, industrial sites…)
We will soon start the first experiments with different partners, stay tuned! 🙂
September 2021 – Intuitive Robots at the ExpoProtection event in Paris (September 28-30)
SAVE THE DATE!
We will be attending the ExpoProtection Security event with our partner Hikvision, from 28 to 30 September 2021 at the Parc des Expositions, Porte de Versailles in Paris (free entrance for visitors). Hikvision provides top-of-the-line IoT solutions and video security systems for a broad range of verticals.
It will be the opportunity to showcase our cameras integrations with Spot robot, proving the added value of embedding security devices on a mobile robot such as Spot, in order to remotely and autonomously inspect hazardous or unknown areas.
Let's meet Hall 5, booth D10.
More info: ExpoProtection Security
September 2021 – The Leica BLK ARC scanner now combines with Spot robot
Our partner, Leica Geosystems (Hexagon Group) has announced the launch of the Leica BLK ARC, the new autonomous laser scanning module designed for robots like Spot. The Leica BLK ARC scanner combined with Spot robot creates a fast, simple, safe, and autonomous reality capture workflow with a minimal user intervention.
Together, they deliver fully autonomous and repeatable scan missions to capture 3D point clouds and panoramic imagery while Spot carries BLK ARC through an environment.
This combination with Spot enables the user to save time and allow BLK ARC to scan complex or hazardous environments while remaining in a safe location.
Read more: Official Press Release
June 2021 – Vivatech Highlights – Spot robot now integrates security IoT from Hikvision
June, the 17th 2021 – Vivatech in Paris
Hikvision is a world leading provider of security products and IoT solutions with video as its core competency.
Intuitive Robots collaborates with Hikvision to use their most performing mobile cameras as payloads on Spot robot. Vivatech is a great opportunity to show how useful and efficient a mobile robot like Spot can be for security use cases in different industries, to keep Humans away from risks by easily monitoring the environment.
Equipped with HIK high-precision (PTZ with optical zoom x30) and thermal cameras, Spot can make routine inspections to detect intrusions or anomalies on industrial equipment. Employees can get real-time transmission of video streams to take any decision required.
Spot equipped with Hikvision PTZ (front) and Thermal (back) cameras
June 2021 – Vivatech Highlights – Spot makes the show with the Leica RTC360 3D Scanner
June, the 16th 2021 – Vivatech in Paris
Following the recent announcement of the collaboration between Intuitive Robots and Leica Geosystems regarding the integration of the RTC360 3D scanner on the Spot robot, the two key-players had the opportunity to perform the first physical demonstrations at Vivatech in Paris.
This new integration offers a mobile, agile and ready-to-use 3D reality capture solution for a variety of industries, providing significant additional customer value where flexible and agile laser scanning workflows are required. Spot's ability to cover many types of terrain allow to safely use the scanner in complex, unstructured and hazardous environments.
Combining Boston Dynamics Spot with the RTC360 creates a mobile scanning solution that saves time because Spot does the walking and stationing of individual scans instead of the user. Once Spot and the RTC360 learn a programmed scanning route through a location, they can more easily and quickly repeat that route for regular scanning.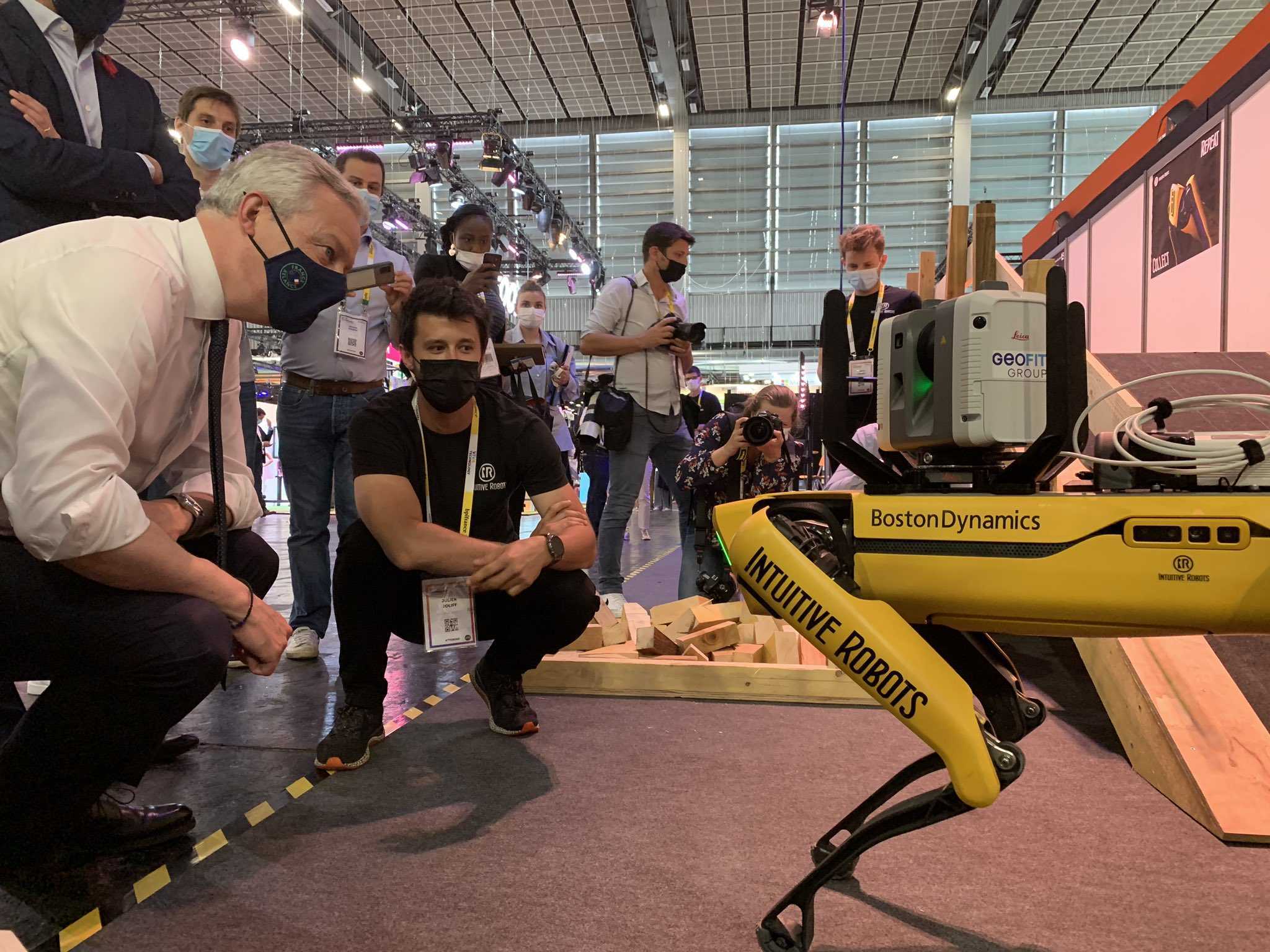 Spot equipped with the 3D scanner Leica RTC360 demonstration with Bruno Le Maire, French Minister of Economy