NEWS AND EVENTS
Events, partnerships, software releases, discover our latest news!
What's up Intuitive Robots?
June 2022 – Spot at Vivatech 2022 with RATP Group
For the second time in a row, Spot was present at Vivatech 2022. But this time, the quadruped called Perceval was on the RATP booth, our customer met last year during Vivatech 2021.
Spot helps operators to inspect underground infrastructures
This year, Perceval has been intensively used in RATP underground network to perform visual inspection. The RATP network is built with 35000 civil works components to check every five years, some of them are hard-to-reach and can be even dangerous for operators. Equipped with a PTZ + thermal cameras, Spot is remotely operated to check the condition of each structure (cracks, thermal anomalies on electric cables…)
This 6th edition of Vivatech was a great opportunity to present the project, Intuitive Robots was proud to be part of the experience!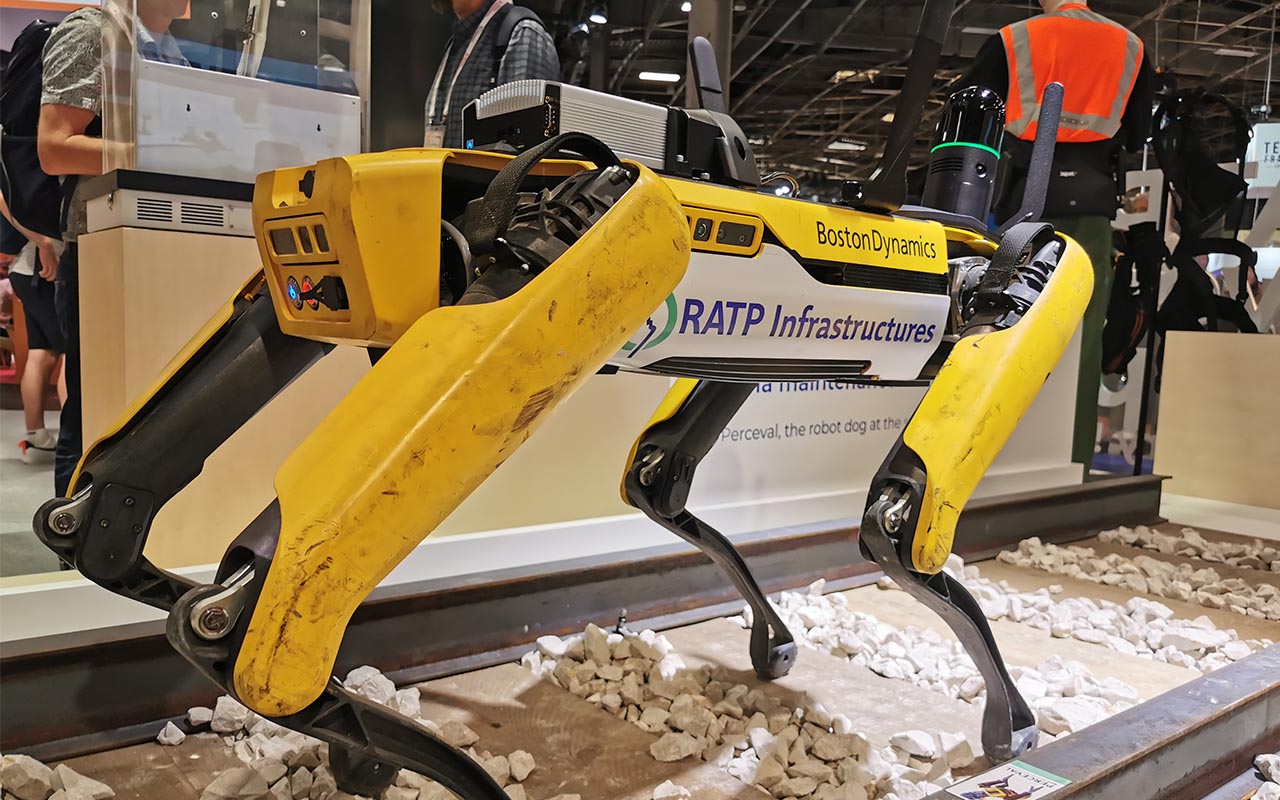 May 2022 – Grand Paris project: a tunnel scanned by Spot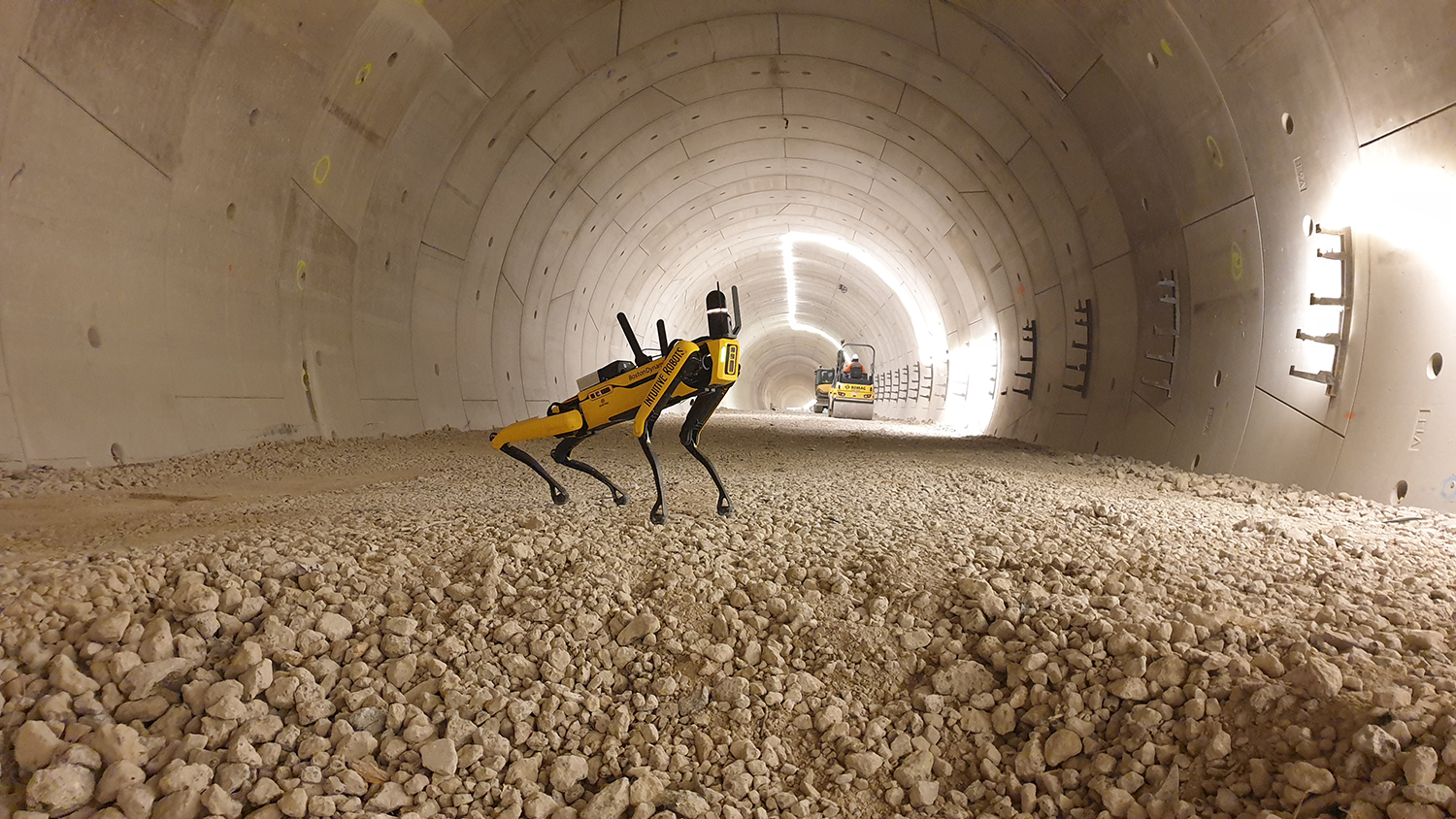 Considered as the largest transport project in Europe, the Grand Paris Express is an automated transit network planned to be operational in 2025, with a new metro including 68 new stations and 200 kilometers of additional tracks.
As the site is still in construction, there're plenty of hard-to-reach areas for employees (with dust, rubble, concrete, scrap metal…), however they still need to make site documentation (to evaluate the progress of the construction site for example). To face this challenge, Spot was used to perform a 3D scan of a tunnel to get accurate data of the construction site. To achieve the mission, Spot was equipped with a 3D scanner (Leica BLK ARC)
April 2022 – Spot detects gas leaks at TotalEnergies platform
New inspection mission for Spot at the Lacq robotics platform operated by TotalEnergies. Double mission, in teleoperation and autonomous mode:
Reading gauges on equipment to ensure proper operation and detect any anomalies
Detection, localization and visualization of gas leaks
Payload configuration:
Spot CAM+ (360° PTZ camera) to read gauges
Fluke SV600 Acoustic Imager to detect gas leaks
Rajant ES1 Kit (mesh network) for wireless network communication
With Spot, TotalEnergies was able to detect gas leaks in less than 3 minutes within the facility.
March 2022: Spot in autonomous mission!
Did you know that Spot can perform complete autonomous tasks and data capture while carrying payloads?
Here Spot is equipped with a 360° PTZ camera combined with a thermal camera. At the top of right of the video you can follow the mission on the controller.
𝗛𝗼𝘄 𝗱𝗼𝗲𝘀 𝗶𝘁 𝘄𝗼𝗿𝗸?
The Spot 𝐴𝑢𝑡𝑜𝑤𝑎𝑙𝑘 feature enables you to record and replay autonomous behaviors with Spot. It consists of two parts:
Recording missions: Drive Spot through a route and choose Actions for the robot to complete at points along the way.
Replaying missions: Spot will execute these movements and Actions as recorded, while adapting to minor changes in the environment.
December 2021 – Discover 𝗔𝗥𝗔𝗠𝗜𝗦: 𝗔utonomous 𝗥𝗔diation 𝗠apping 𝗜ntegrated 𝗦ystem
The Mobile and Autonomous Mapping Solution for nuclear facilities
ARAMIS is a mobile robotic system enabling to safely 𝗱𝗲𝘁𝗲𝗰𝘁, 𝗹𝗼𝗰𝗮𝗹𝗶𝘇𝗲, 𝗰𝗵𝗮𝗿𝗮𝗰𝘁𝗲𝗿𝗶𝘇𝗲 and 𝗺𝗲𝗮𝘀𝘂𝗿𝗲 𝗴𝗮𝗺𝗺𝗮 𝗿𝗮𝗱𝗶𝗼𝗮𝗰𝘁𝗶𝘃𝗶𝘁𝘆 in 𝗻𝘂𝗰𝗹𝗲𝗮𝗿 𝗳𝗮𝗰𝗶𝗹𝗶𝘁𝗶𝗲𝘀, using real-time spectroscopy and 360° imaging transmission provided by the H400 spectrometer camera manufactured by H3D, Inc.
This project with Spot aims to 𝗸𝗲𝗲𝗽 𝗼𝗽𝗲𝗿𝗮𝘁𝗼𝗿𝘀 𝗮𝘄𝗮𝘆 𝗳𝗿𝗼𝗺 𝗵𝗮𝘇𝗮𝗿𝗱𝗼𝘂𝘀 𝗮𝗿𝗲𝗮𝘀 𝗮𝗻𝗱 𝘀𝗶𝘁𝘂𝗮𝘁𝗶𝗼𝗻𝘀 during inspection tasks.