RAJANT KINETIC MESH RADIO ® PAYLOAD
DEPLOY A ROBUST WIFI NETWORK TO TELEOPERATE SPOT
Deploy Spot quickly and easily within an isolated network, thanks to the Rajant Kinetic Mesh Radio kit, with no infrastructure required.
Very useful in galleries, tunnels, or outdoors, the radios automatically switch to the least disturbed frequencies (2.4GHz or 5GHz) and provide a theoretical throughput of 300 Mbps, which allows to teleoperate Spot in good conditions.
TECHNICAL FEATURES
Radio coverage up to 200,000 sqft (~250ft radius per radio indoors)
Comes with default settings to run on Spot out of the box
Radios support dual band 2.4 GHz and 5.8 GHz
Easy to mount on top of Spot, Spot EAP, or Spot CORE
In the box:
Four Rajant ES1 BreadCrumb radios, including two repeater nodes, one Spot-mountable radio, and one
operator control unit (OCU)
Three tripods for the OCU and repeaters
Three 120VAC POE power supplies (repeaters and OCU)
Provided with Spot CORE I/O and Spot GXP with POE
Travel case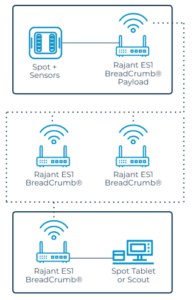 Need to deploy a robust WiFi network to teleoparate Spot?
Get a quote