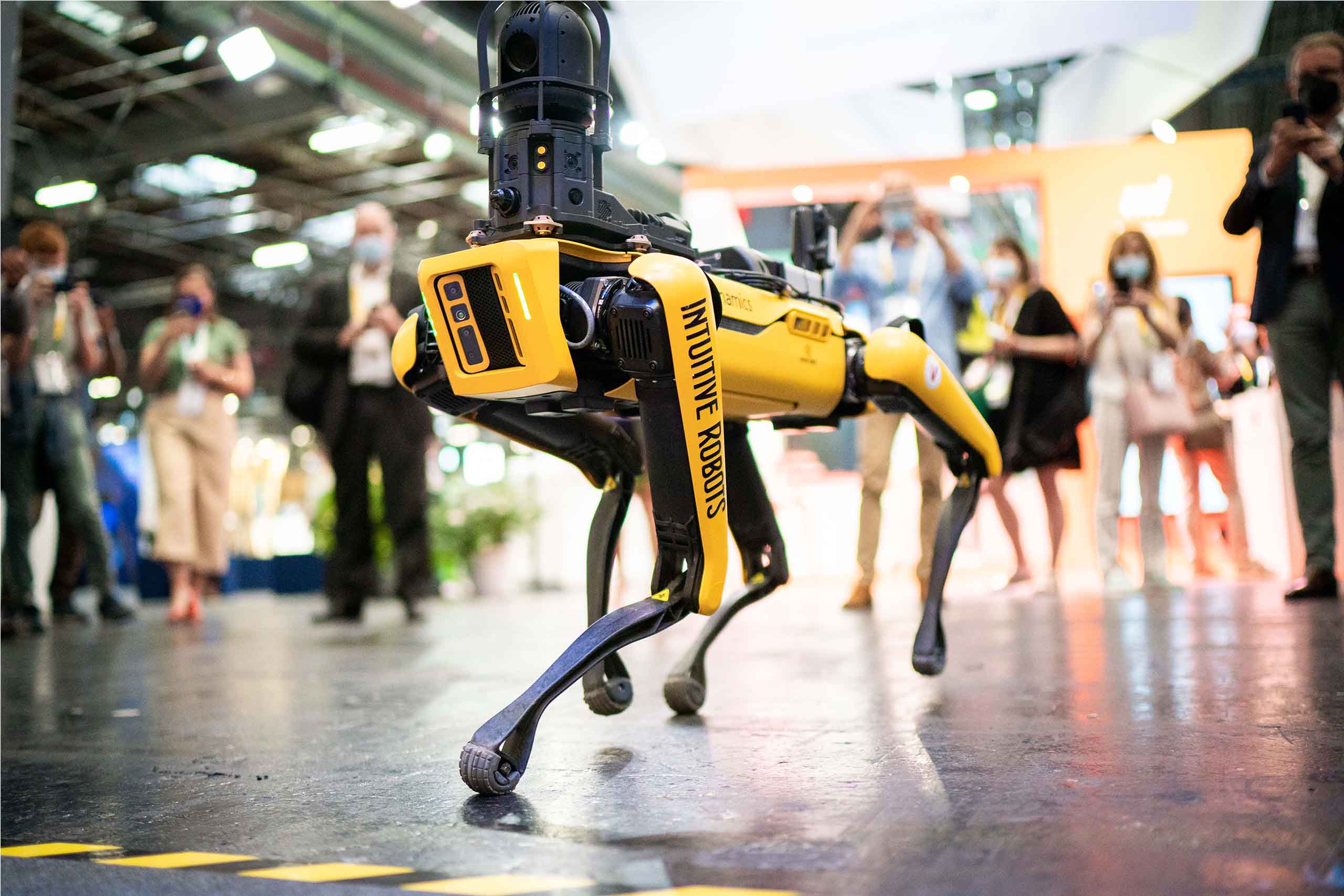 June, the 16th 2021 – Vivatech in Paris
As expected, Vivatech was unmissable! With this year of COVID, Vivatech was a limited & hybrid edition with a blend of online and in-person for an augmented event experience. A total of 26,000 people attended the conference in person and 114,000 online, bringing the total to 140,000,  That was up from 124,000 in-person attendees in 2019, the last time VivaTech was held. In total, this year's event reached 119 million people in 149 countries, with 1.7 billion views.
For our 5th participation, we've been invited by Vivatech to showcase for the first time in France one of the most advanced robot: Spot, the famous nimble four-legged robot designed by our partner, Boston Dynamics. For this occasion, we built a wooden platform composed of a ramp and a stairs, to show all the agility of Spot.
While waiting for the 2022 edition (normal edition), find our highlights of this 2021 edition!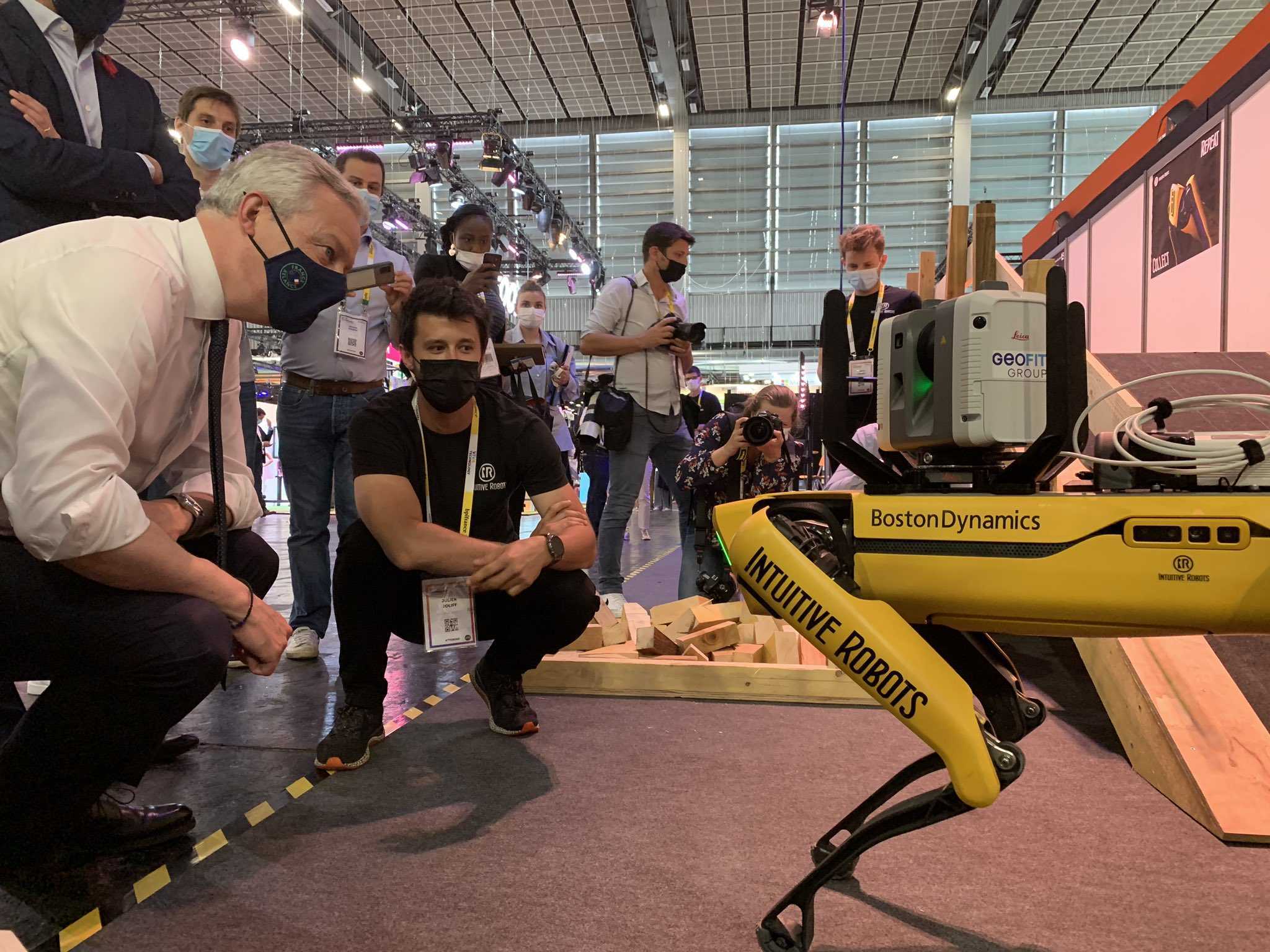 Demo of our Spot robot equipped with the Leica RTC360 to Bruno Le Maire, French Minister of Economy
Partnership with Leica Geosystems
Following the recent announcement of the collaboration between Intuitive Robots and Leica Geosystems regarding the integration of the RTC360 3D scanner on the Spot robot, the two key-players had the opportunity to perform the first physical demonstrations at Vivatech in Paris.
This new integration offers a mobile, agile and ready-to-use 3D reality capture solution for a variety of industries, providing significant additional customer value where flexible and agile laser scanning workflows are required. Spot's ability to cover many types of terrain allow to safely use the scanner in complex, unstructured and hazardous environments.
Combining Boston Dynamics Spot with the RTC360 creates a mobile scanning solution that saves time because Spot does the walking and stationing of individual scans instead of the user. Once Spot and the RTC360 learn a programmed scanning route through a location, they can more easily and quickly repeat that route for regular scanning.
Spot robot awarded among the 21 best innovations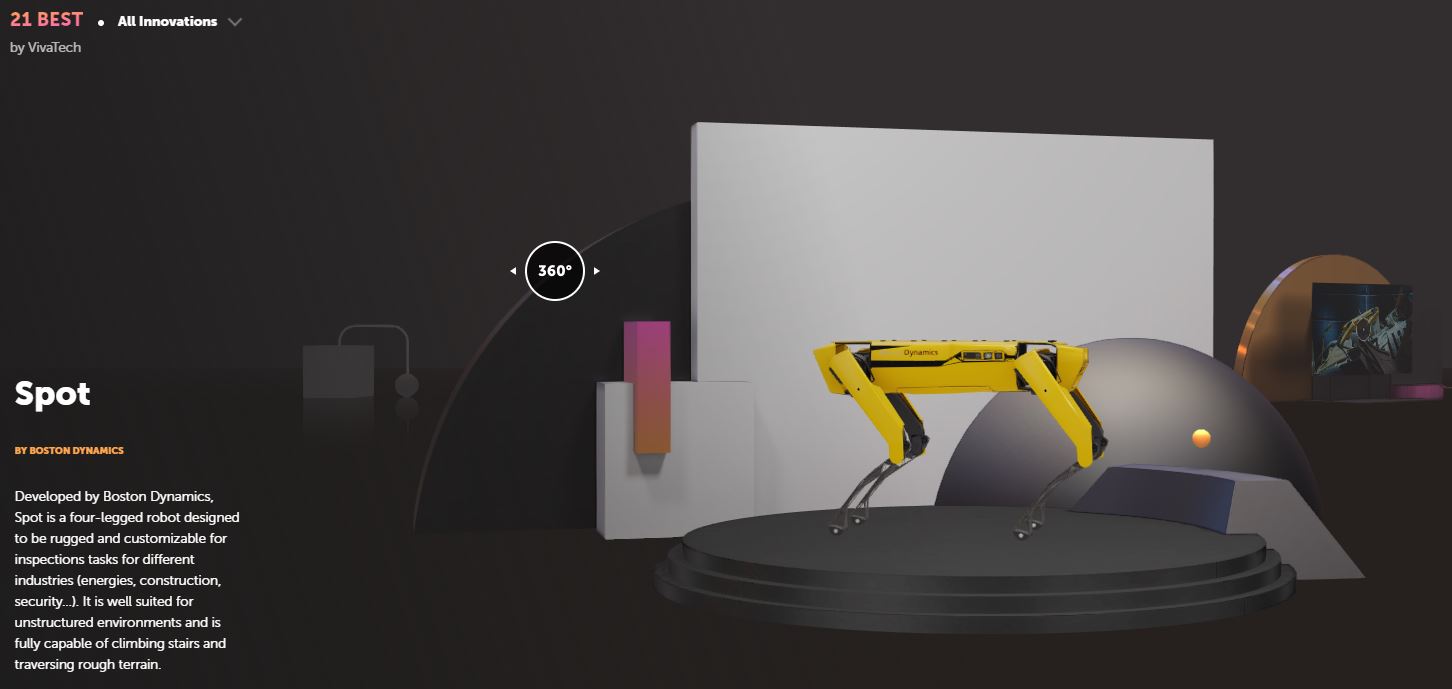 Bonus: Pitch and conference replays
Pitch Spot Robot and Intuitive Robots @ Vivatech Arena
(Coming soon) Conference : AI, Robots, RPA, Digital Twins…