Business references
Pepper at Carrefour France and Spain
For the first time in Europe
with Intuitive Robots !
              
---
INTRODUCTION
The added value of Intuitive Robots in this project :
Intuitive Robots gives a spark of life to humanoid robots. Our job is to provide new uses within the digital strategies of our clients in the retail or service domains.

Our expertise in the integration of humanoid robots, such as Pepper the robot within the companies, come from our experience and our knowledge regarding the physical and technical capabilities and constraints of this new human-machine interface.
In partnership with Softbank Robotics (Ex. Aldebaran) and Carrefour, a particular attention was taken during the design stage in order to facilitate the interactions between Pepper and people who have never interacted with a humanoid robot before.
From the choice of applications to the design stage, through the robot's speech and body language or the use of the tablet, every part has been carefully studied.
Thanks to this in-depth analysis, we developed interactive and intuitive applications. From now, a humanoid robot such as Pepper can welcome and guide people, inform them about brand services, promote products tailored to their needs, conduct satisfaction survey and entertain them with funny games !

In addition, these applications are designed to facilitate their evolution over time by giving our customers the ability to regularly update the content. Thus, the content presented by the robot can continuously change.

As part of the project, we've proposed different use cases aiming Carrefour to enrich the consumer experience while improving the quality of their service every day !

Interactions, use cases, interviews, below a video made by Softbank Robotics and Carrefour (with english subtitles)


Some interactions with Pepper (in French)

---
Pepper the robot in Carrefour Supermarkets in France and Spain :
Since late October 2015, Carrefour Group is experimenting Pepper the robot in three stores in France and two in Spain. For the retailer, this experience aims to investigate customer satisfaction, entertain kids (and adults) and offer informations about their services and products.
Overall, seven Pepper are located at strategic points of the store and aim to meet three objectives :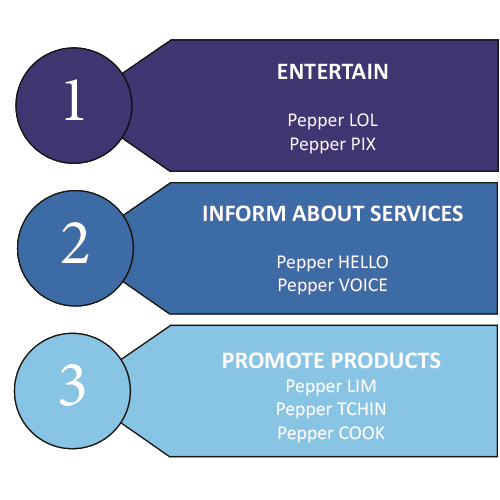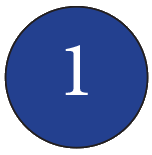 Entertain the consumers with Pepper LOL and Pepper PIX
Fun activities and selfies with Pepper
Pepper LOL is a great way to make the route in the store fun and unique, especially for children !
The robot proposes three games :
1- Akinator, the Web Genius © (Adapted from the famous mobile application, designed in partnership with Elokence)
Who doesn't know the famous guessing game ? Here is Pepper guessing a real or fictional character you think about and has to find it in less than 20 questions. What is different from the classic game ? Pepper adapts his speech and behavior depending on the progress of his quest.
2- The Memory Game
Memory Game is a very popular game for children. This adaptation on Pepper offers a touchscreen interaction with the robot. Pepper displays on the tablet a composition of 5 pairs of identical cards with illustrations. The goal is to discover the 5 pairs before a defined time but it will not be so easy as Pepper will do anything possible to distract you !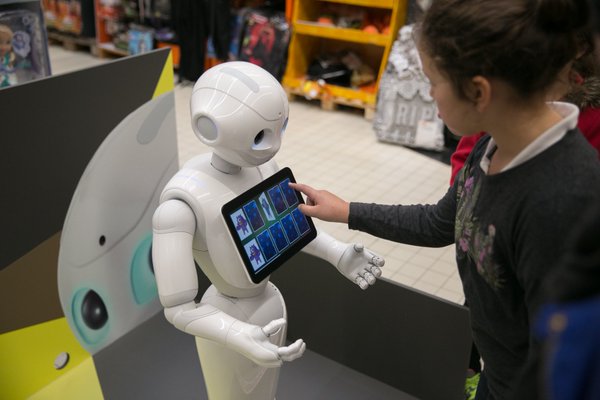 3- The Smile Game

This application capitalizes on the emotion recognition capabilities of the robot and especially your smile. Pepper asks you to smile in three different ways. If the smile is well done, Pepper fulfills his energy gauge, giving one point. The game is won when you reach three points. In this challenge, Pepper will surprise you a lot !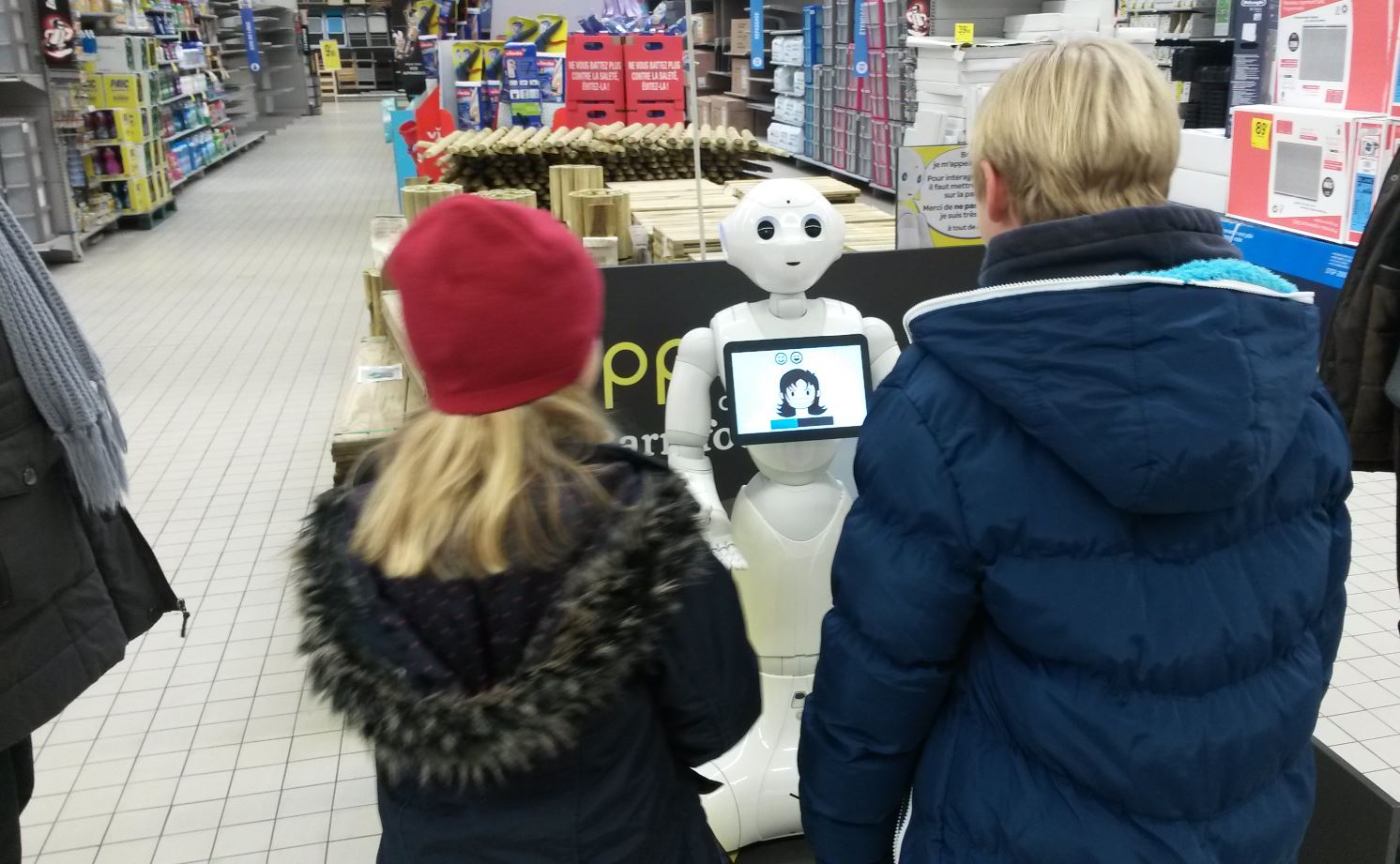 Take a selfie with Pepper PIX
This is a great way to capture the first meeting with a humanoid robot and leave with unforgettable memories ! Pepper Pix proposes to take a picture by taking poses such as Super Pepper or Pepper Bolt! Once the picture's taken, you can print directly at the photobooth or receive it by e-mail, allowing you to share it on social medias !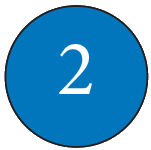 Inform about services in an innovative way with Pepper HELLO and Pepper VOICE !
Welcome people and inform them about brand services with Pepper HELLO

Located at the entrance of the store, Pepper Hello welcomes you and introduces you to the other Peppers that the customer can meet in the store, and presents various Carrefour services such as the loyalty card. During the interaction, Pepper will give your potential savings based on your buying behavior and your weekly budget (thanks to the loyalty card for example).

For Carrefour, it is firstly a new method of communicating about their services and secondly, an effective way to convince customers to subscribe to it. The icing on the cake: Pepper offers a scratch game with the chance to win coupons or a surprise!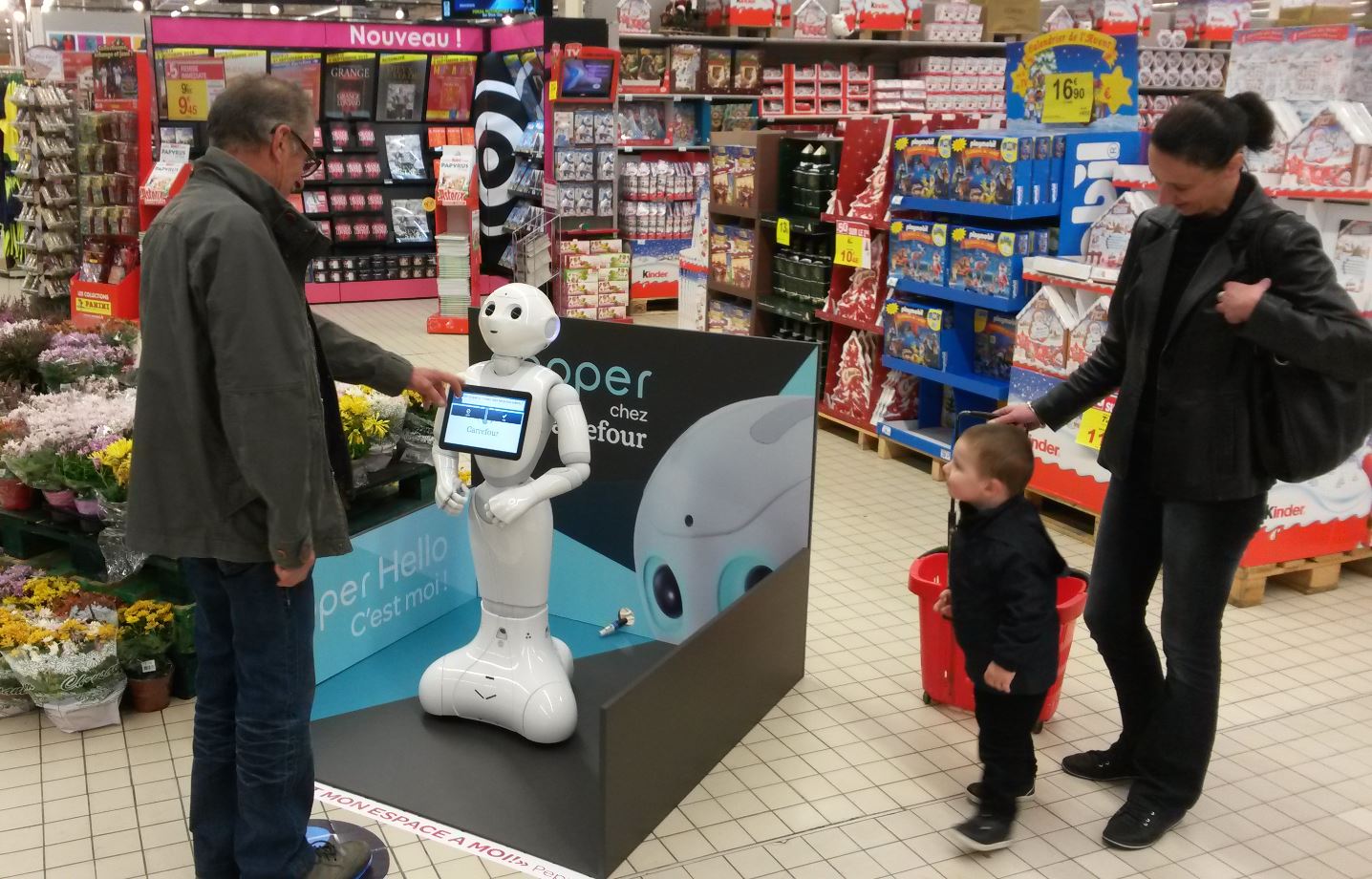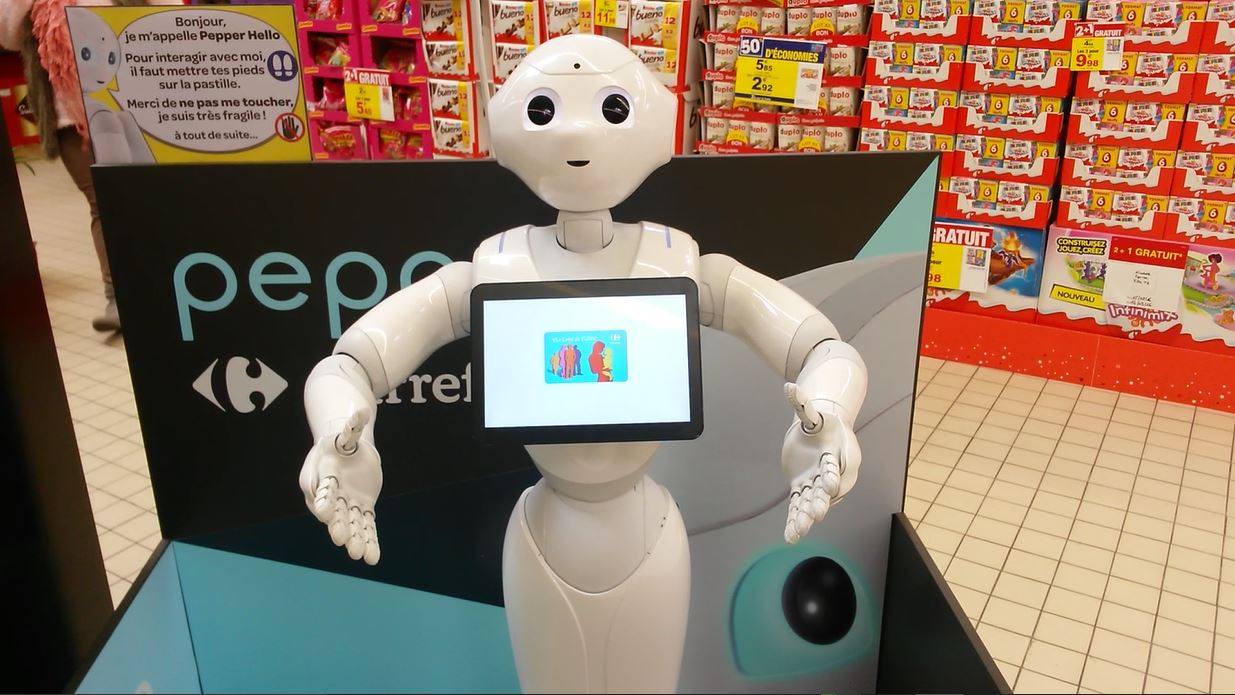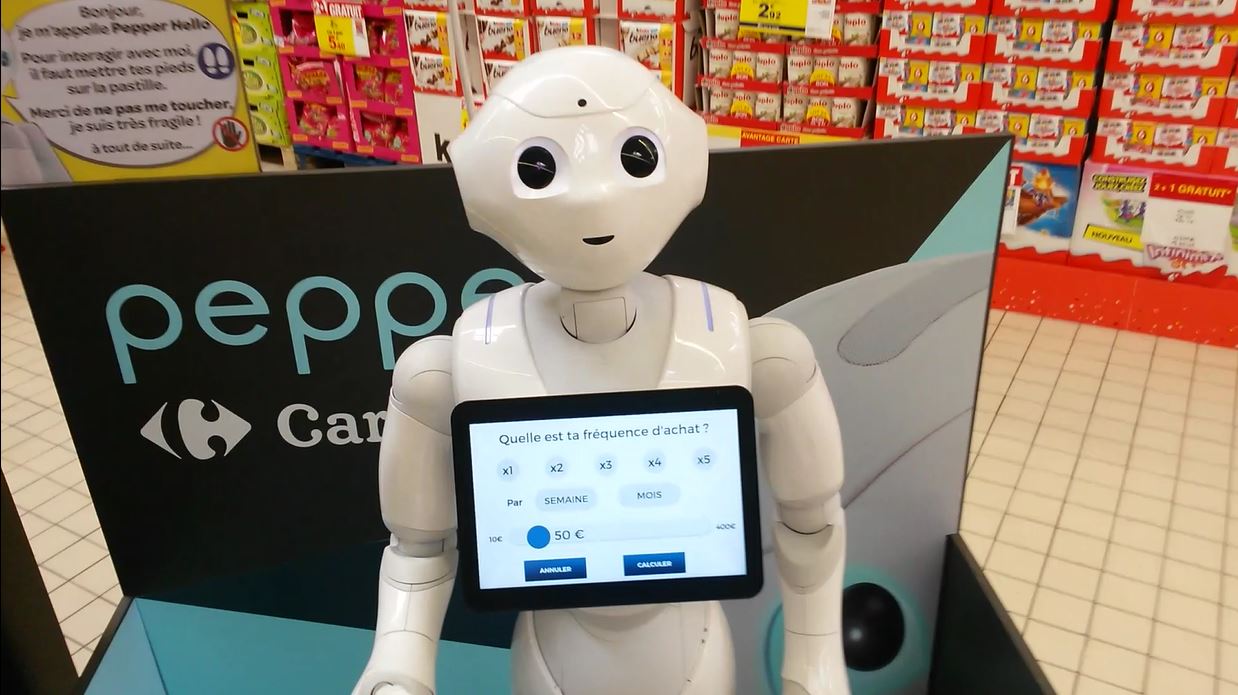 Conduct a customer satisfaction survey with Pepper VOICE

Pepper Voice has the mission of inquiry on the customer satisfaction by asking a few questions such as their satisfaction on various aspects of the store (freshness of the products, availability…) Fast and efficient, the answer is given orally to the robot or by touchscreen.
This application has two key advantages : on the one hand the customer gives his opinion about the store, on the other hand the store is constantly improving the quality of its services in a targeted way thanks to notes and opinions collected on a daily basis.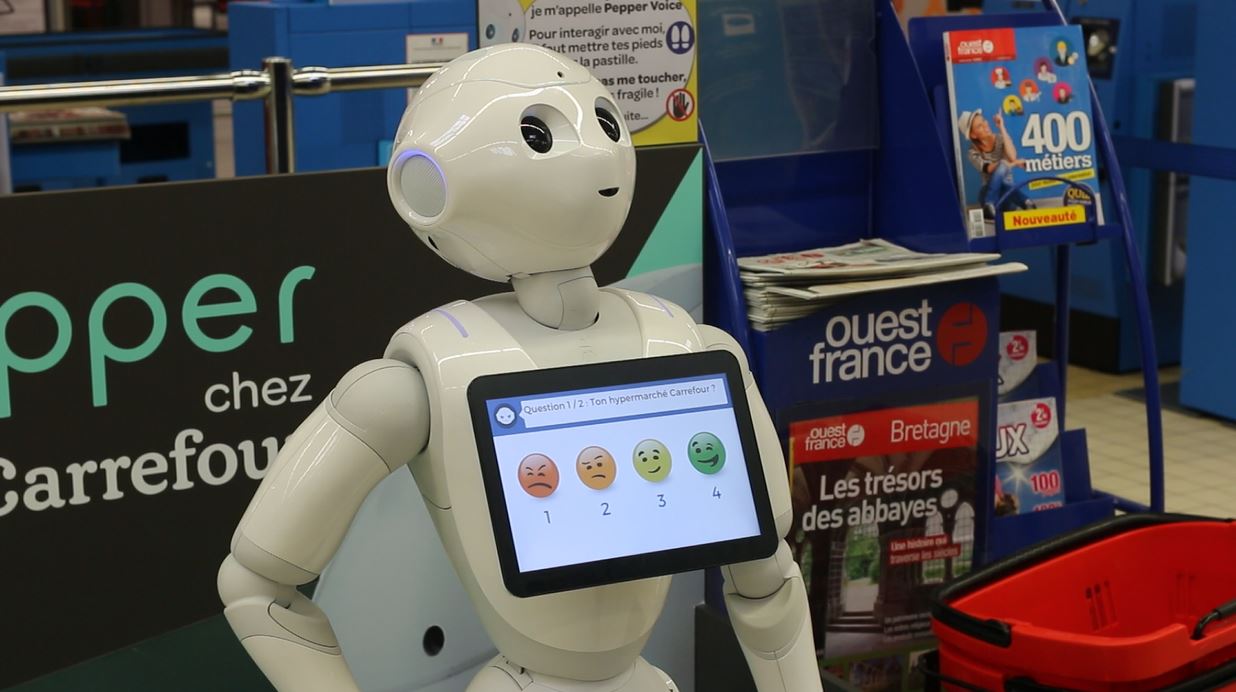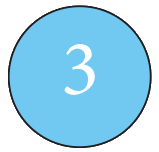 Promote products with Pepper TCHIN, Pepper COOK and Pepper LIM
Pepper TCHIN will help you find a wine matching your criteria !
Pepper TCHIN will welcome you at the wine section of the store. Pepper presents a wine selection availaible in the shelves and then asks you a few questions about what you need (Red or white wine, origin, price range +10€, -10€…)
Far from being a sommelier, Pepper TCHIN selects wines from which he knows perfectly the description and gives you some advices about food and wine pairing. A real added value for Carrefour, providing additional services to customers.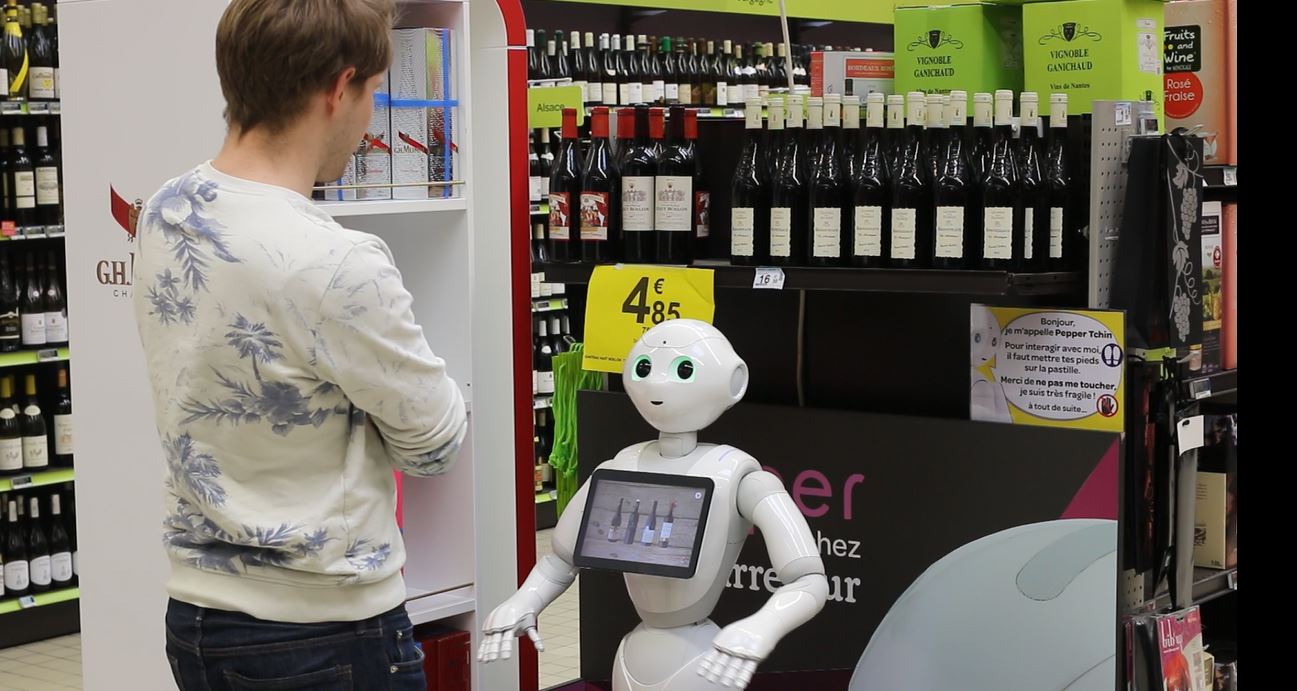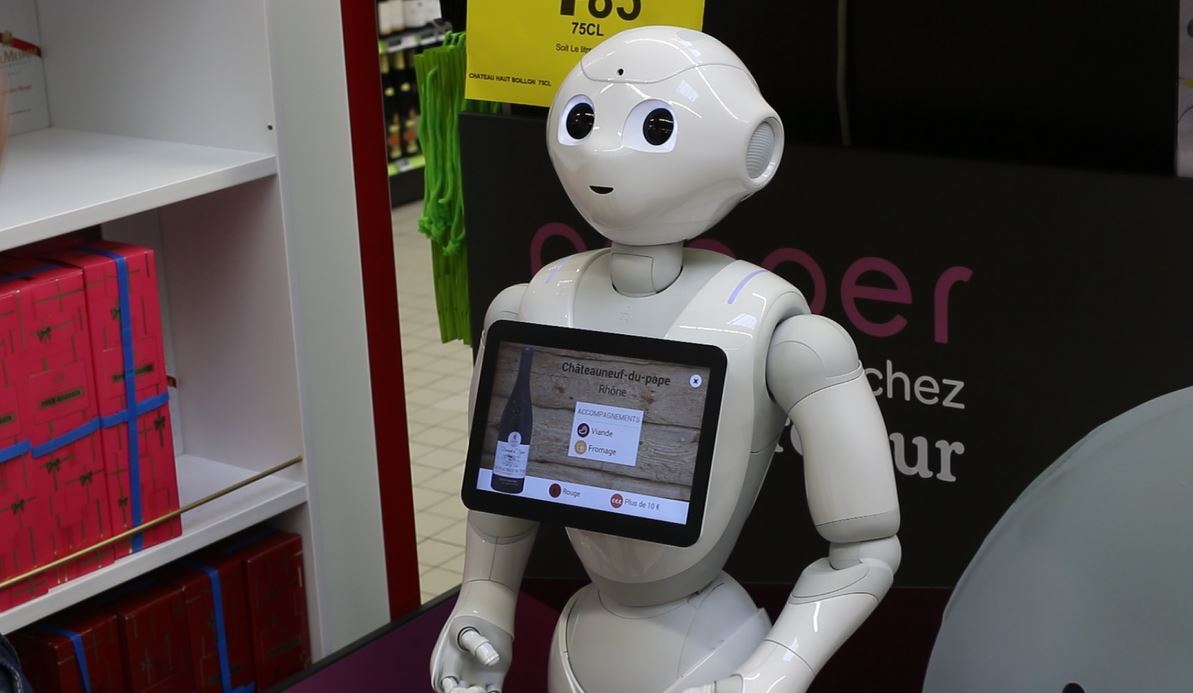 Promote a selection of recipes with Pepper COOK
Supermarkets usually offer recipe suggestions on their websites or in their promotional catalog. This time, it's directly in the store. For customers looking for inspiration, Pepper COOK offers a wide range of recipes for appetizers, entrees and desserts where each of them is described orally and visually. Therefore, people can adapt their shopping list in real time according to what Pepper suggested. At Carrefour in Spain, by scanning the QR code displayed on the tablet, you can find the recipe on the Carrefour website once at home. A funny alternative to classic recipes books and websites !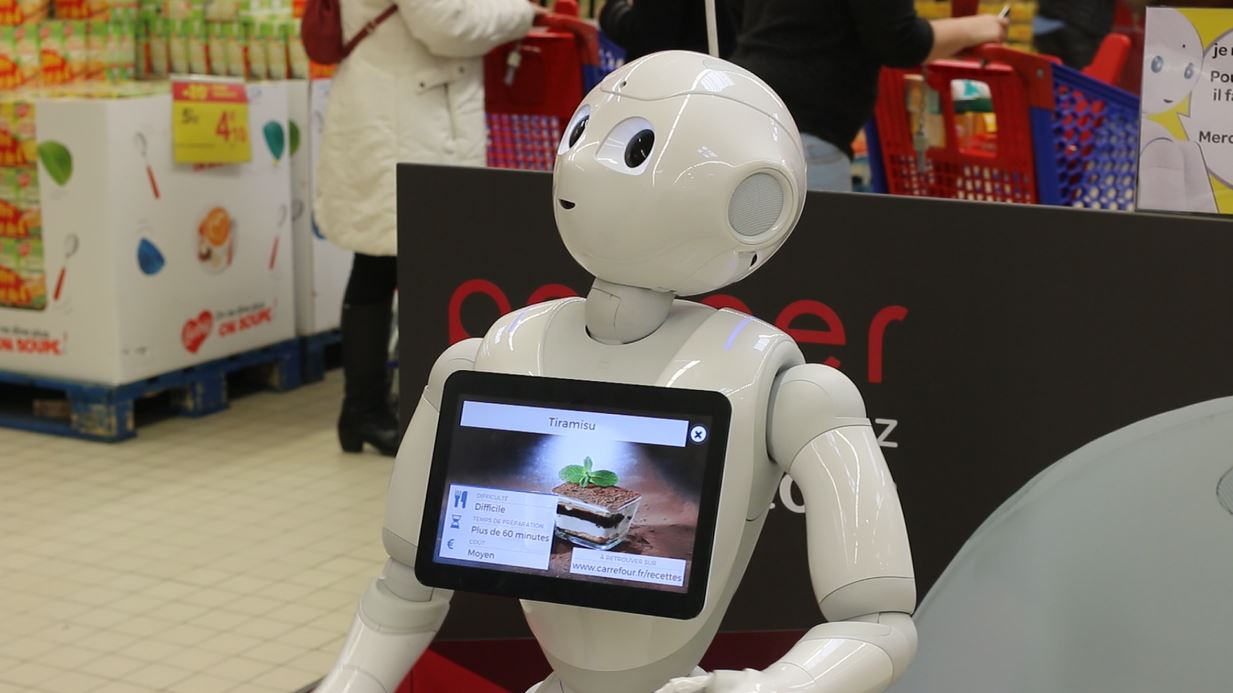 Discover a selection of comics with Pepper LIM

Located next to the DVD & Library section, Pepper LIM helps you find the comic book which suits your needs ! Are you looking for a children's comic ? for adults ? To give as a gift or for yourself ? Pepper presents a wide selection of comics, starting with a funny description of the latest edition of Asterix, "The Papyrus of Caesar"! Through his gestures, movements and sounds, Pepper LIM lets you live a piece of the story of each comic in a new way!
For Carrefour, it is a very innovative way to promote comics while informing customers on each of them.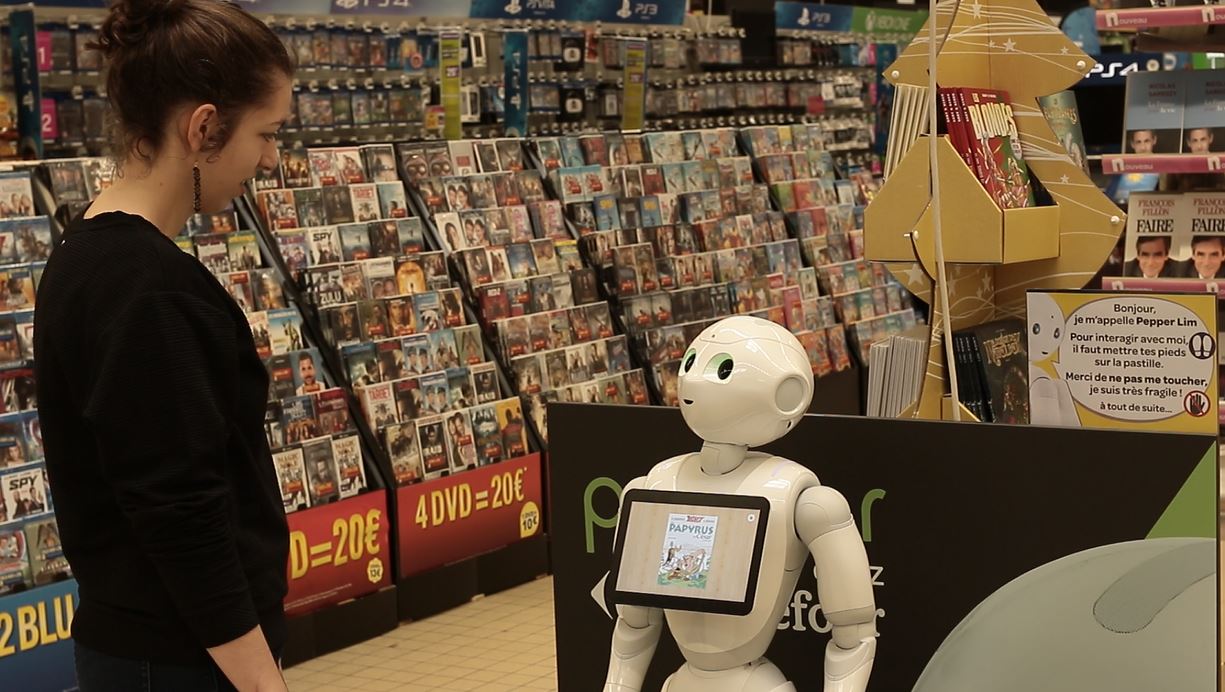 For futher information about our business solutions / applications,
feel free to contact us !